As it happened: Stage win and race lead for Skjelmose on Tour de Suisse stage 3
How the summit finish at Villars-sur-Ollon tested GC contenders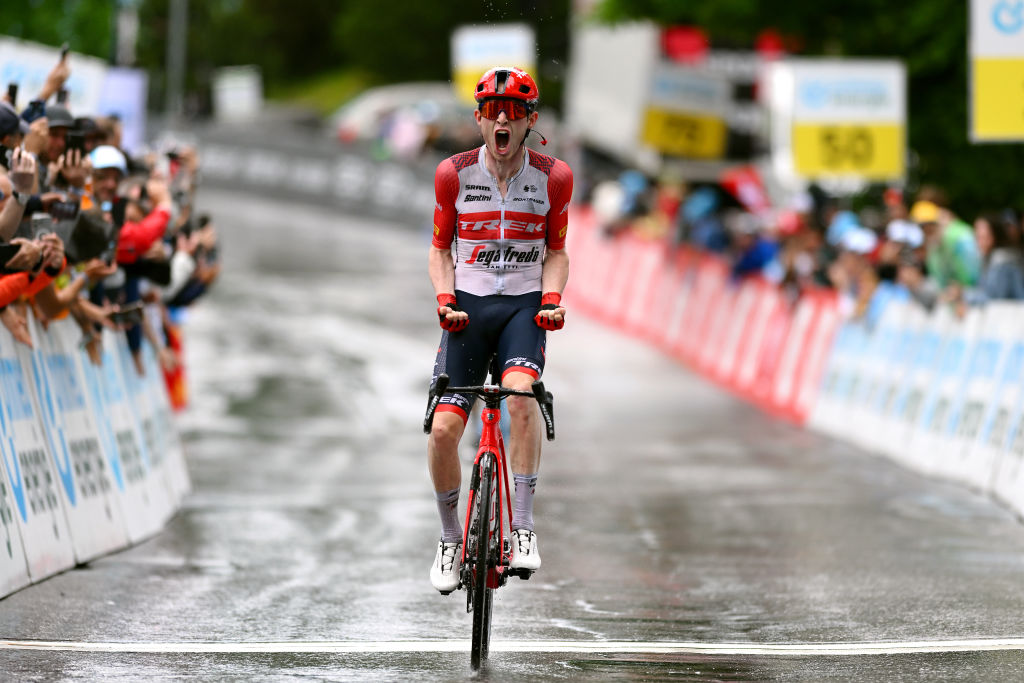 Tour de Suisse: Mattias Skjelmose wins stage 3 summit finish
Refresh
Hello there and welcome along to our live coverage of stage 3 of the 2023 Tour de Suisse. We've had a time trial, we've had a sprint, and now it's time for the mountains.
We have three successive days in the mountains and it starts with this 143.8km stage from Tafers to our summit finish at Villars-sur-Ollon.
With the best part of 100km on the flat, and with the penultimate climb of Col des Mosses being relatively benign, it's not the toughest of stages overall, but the final climb measures 9.6km at an average gradient of almost 8%. It's an important test for the general classification contenders.
The riders have all signed on for the stage and will be rolling out in a few minutes' time.
The riders are rolling and we have a short neutral zone today so they should be racing in a few minutes.
Stefan Kung (Groupama-FDJ) is in the leader's yellow jersey after winning the stage 1 time trial and finishing safely in the peloton yesterday. He's likely to lose it today, though.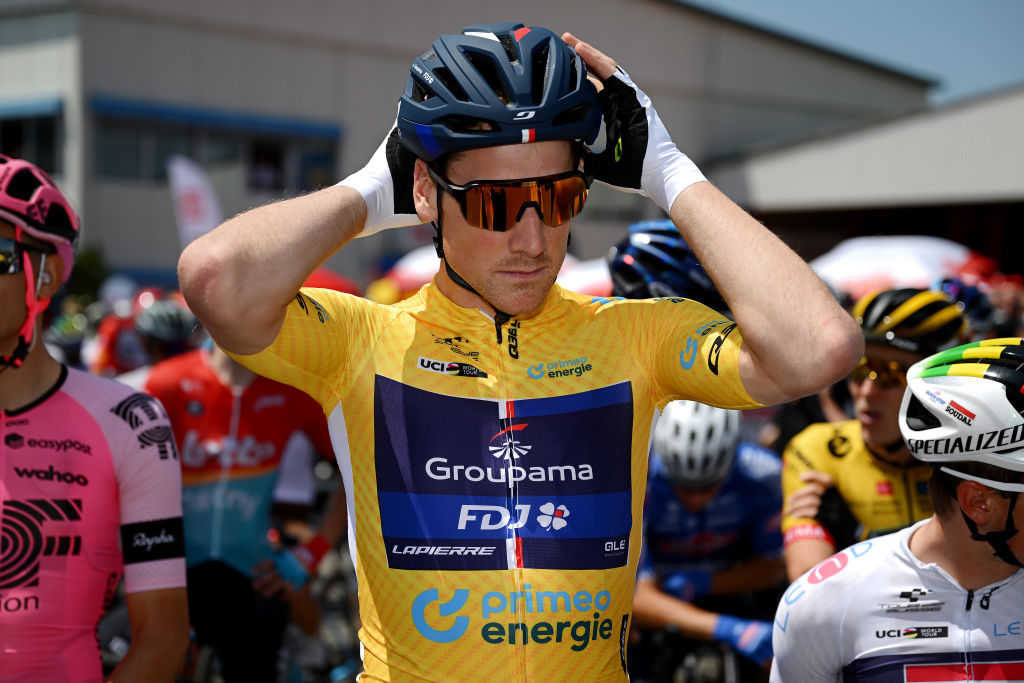 We're off
The race has been waved underway and the first attacks for the breakaway are coming.
Alexander Kamp (Tudor) goes clear and is joined by three more riders. This looks like it's going clear.
Lilian Calmejane (Intermarche-Circus-Wanty), Paul Ourselin (TotalEnergies), and Nickolas Zukowsky (Q36.5) are the other members of this breakaway attempt.
This four-man group has been let go by the peloton. The gap rises to 90 seconds after 10km of racing.
Kung's Groupama-FDJ teammates take the front of the peloton as the gap reaches 2:30.
125km to go
The gap reaches 3:30.
The gap stabilises at 3:30. It looks like a pretty quiet day until the wind-up on the Col des Mosses and then the tough final climb.
Remco Evenepoel is in the white jersey as best young rider, second overall after the stage 1 time trial and the favourite to take yellow today - and perhaps at the end of the week.
Next to him is his fellow Belgian Wout van Aert, in the black jersey as leader of the points classification, having placed 3rd on both stages so far.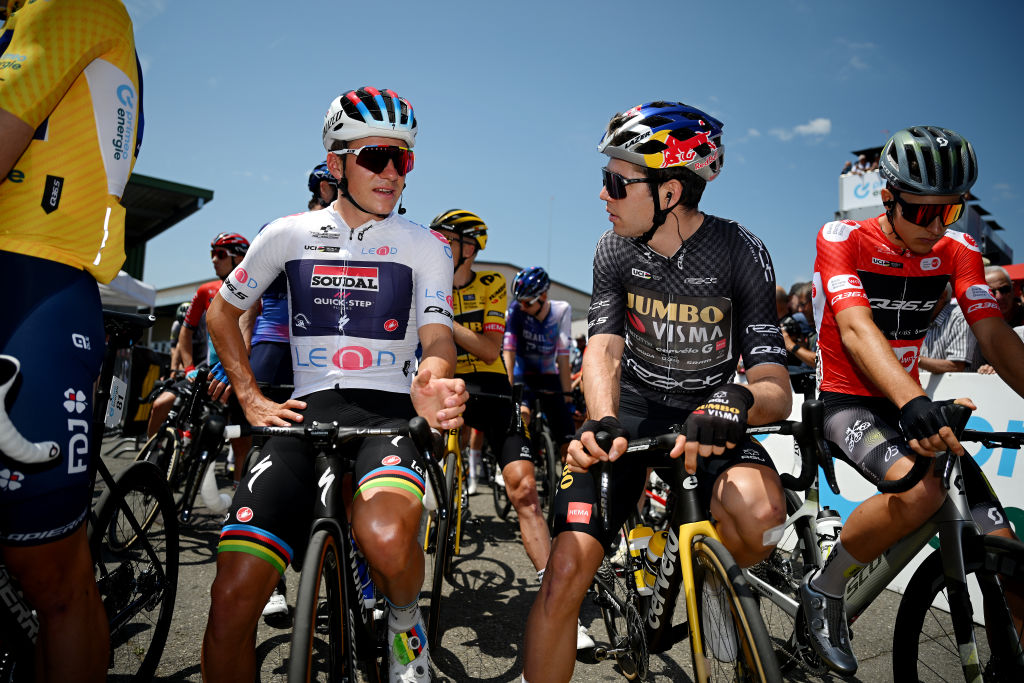 42.2km covered in the first hour.
Before the race really lights up today, here's our race preview looking at the key storylines of the week. Featuring Remco Evenepoel, Wout van Aert, Tom Pidcock, Peter Sagan, Juan Ayuso and more.
Here's our breakaway. That's Zukowsky on the front in the red jersey as leader of the mountains classification, after his efforts in yesterday's breakaway.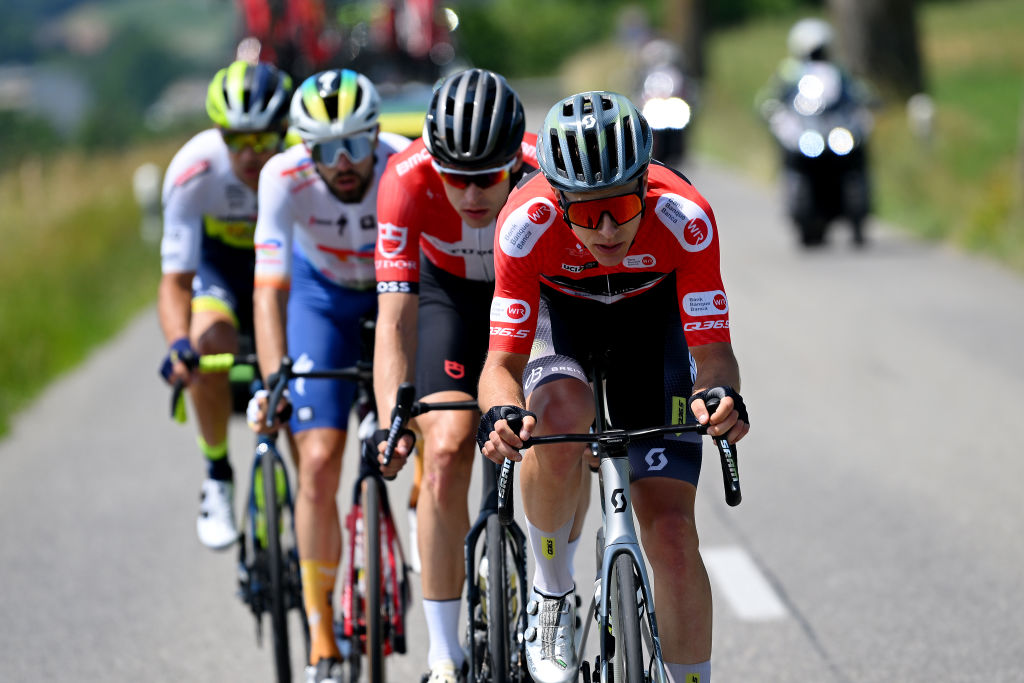 85km to go
Change in the peloton
Soudal-QuickStep take over from FDJ. The Belgian team are clearly confident in Remco Evenepoel today.
The gap came down to 2:30 but has now nudged back out towards the three-minute mark.
The race leader, Stefan Kung, has just been confirmed in Groupama-FDJ's Tour de France squad. With speculation swirling over Thibaut Pinot and Arnaud Demare, the French team have had to move into putting out an early and incomplete announcement, naming five of their eight riders for the Tour.
The headline news: Pinot in, Demare out (and soon out of the team). Full story here.
68km to go
75km ridden and the road now starts to drag uphill, all the way up to the Col des Mosses. The climb itself doesn't begin for more than 25km but it's a false flat then a kick up to an intermediate sprint before it does.
The gap is pretty stable, at 2:45.
Jumbo-Visma are making their presence felt towards the front of the bunch. They have Wilco Kelderman as their top climber here and it'll be interesting to see how he copes, having been drafted into the Tour squad despite an injury-disrupted and race-light season so far.
On the other hand, there'll be plenty of interest in Belgium as to what Wout van Aert can do. We've seen him excel in the mountains of the Tour, and if he's prepared in the same way, he could certainly look at a good GC result given the two time trials on this route. In fact, he's already 46 seconds up on Kelderman overall, with a similar buffer over a number of pure climbers.
50km to go
Into the final 50 and we're now heading up the kicker towards the intermediate sprint - or should I say, sprints. This year we have the 'Tissot kilometre', which is effectively two sprints a kilometre apart. Both carry bonus seconds of 3-2-1 for the first three over the line, so they are there to tempt out the GC riders, but on this occasion they'll all be snaffled up by the breakaway.
The gap comes down to 90 seconds as QuickStep set a brisk pace behind.
The rain is coming down hard now.
The four leaders are coming towards the first sprint of the Tissot Kilometre.
And there is no sprint. Calmejane gets to the line first but merely by dint of doing his turn at that time.
The peloton come through that first sprint 1:15 in arrears. No bonus seconds remaining so no contest there, either.
Here comes the second sprint....
Kamp takes it! But again, no actual sprint, no interest. The Tissot Kilometre somewhat redundant today.
40km to go
Onto the more serious matters and the Col des Mosses starts straight after that Tissot Kilometre. It's 6.2km at 4.9%. That includes a little dip downhill and a plateau, but even so, it's not really worthy of it's category-1 billing, and shouldn't do too much damage ahead of our final climb.
The descent between the two, however, has become more of a factor with this wet weather, which has soaked the roads already.
Here's Kasper Asgreen on the front for QuickStep.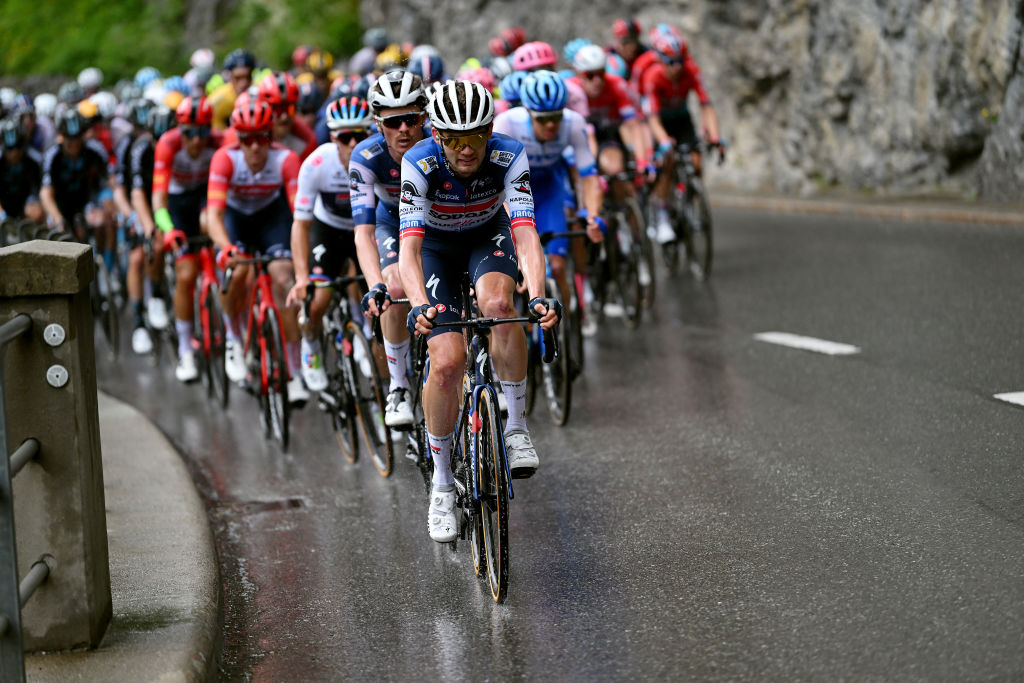 Injection of pace in the bunch as Jayco-AlUla move up. UAE and DSM are prominent as well, and now Kung gets moved towards the very front.
Some riders are getting dropped, including sprinters like Arnaud Demare, but we're going to get a pretty full bunch going over the top of this.
The four leaders dig in as they hit the upper slopes of this climb. They're losing ground - 45 seconds now - and they'll want to just hang on now to fight for the KOM points.
Into the final kilometre of the climb and it's down to 30 seconds.
They're going to hang on. Zukowsky on the front as they head into the final 300 metres.
And takes it by a huge distance. 12 points to the Frenchman.
Zukowsky trails in second place, defending his red jersey, but he has a competitor now.
Extra layers in the bunch for this descent, which is a long one at 20km.
The peloton crest the climb just 15 seconds down.
28km to go
All together
The breakaway is caught on the descent.
This is far from the steepest of descents but it's still a dangerous one on these sodden roads, with so much water being sprayed up by tires.
Trek-Segafredo hit the front of the bunch.
The peloton is splitting on the descent.
Evenepoel is in the front split being driven by Trek. A couple of smaller groups are a little further back.
The bunch is starting to stitch itself back together.
18km to go
We're heading towards the bottom of this descent. We'll have a few kilometres in the valley in Aigle - home of the UCI - before we start our final climb.
16km to go
The descent is done, ending with a bunny hop over a potentially treacherous set of tram tracks. A few stragglers but the peloton is pretty much as one.
DSM take it up in the valley. They're here for Romain Bardet, who lost 34 seconds to Evenepoel in the opening time trial.
Trek-Segafredo and UAE are also prominent. Trek are here for Mattias Skjelmose, while UAE are led by the Spanish sensation Juan Ayuso, with Jay Vine also here.
10km to go
Intermediate sprint now before the climb and Van Aert accelerates!
Van Aert takes a gap through the sprint and onto the climb. The bunch comes back to him but he continues his effort on the front.
The climb has begun. It's the road up to Villars-sur-Ollon and it measures 9.7km at 7.8%.
Van Aert drifts back now, as QuickStep take it up once more.
It's Mattia Cattaneo on the front for QuickStep, Evenepoel just behind. He does get more assistance now as James Knox moves up.
Van Aert is dropped. That answers the GC question.
7.8km to go
Cattaneo pulls off and hands over to Knox.
Alexey Lutsenko (Astana) - top 10 in the past two editions of the Tour de France - is dropped.
Sergio Higuita (Bora-Hansgrohe) is another rider dropped. It's still a sizeable bunch but some big names struggling.
Bora have youngster Cian Uijtdebroeks, who's been quietly impressive this season, as another GC card.
Ineos have Magnus Sheffield fourth overall, and he has GC potential, but there's also Tom Pidcock, and we should get a glimpse of how he's going - and perhaps of his ambitions - ahead of the Tour de France.
7km to go
Knox continues his effort for Evenepoel.
Kung is still here but is now towards the back.
Knox looks around. I'm not sure how much he has left. Evenepoel looks like a coiled spring behind.
Evenepoel attacks! 6.4km from the summit.
Skjelmose nips over to Evenepoel.
Felix Gall (AG2R) gets over to them and they're away as a trio.
Kung is dropped as the bunch explodes. He waves to the camera. The yellow jersey will indeed change hands today.
Evenepoel drives this on, Skjelmose and Gall in the wheel.
Sheffield is dropped, making the Ineos hierarchy clearer. Dropped with him are Rui Costa and Max Schachmann.
Kelderman and Bardet at the head of a much reduced bunch of around 20 riders.
10 seconds is the gap between the Evenepoel trio and that group.
5km to go
5km to go and this is a gentler section before some steeper stuff nearer the top. Evenepoel is not getting any assistance up front.
Skjelmose is just 14 seconds down on Evenepoel in GC, having placed sixth in the opening TT. Gall is a further minute back.
Pello Bilbao accelerates from the chase group.
4km to go
Bilbao is coming across as the chase group splits.
Kelderman, Uran, Ayuso in a small group coming back to Bilbao.
Evenepoel continues to tow Skjelmose and Gall, with the gap only around 10 seconds still.
Uijtdebroeks and Harold Tejada are also in the chase group that is now back with Bilbao.
3km to go
Leaders - Evenepoel, Skjelmose, Gall
Chase group at 10 seconds - Bilbao, Kelderman, Uran, Ayuso, Uijtdebroeks, Tejada
No immediate response from Evenepoel and the Austrian climber is away.
Skjelmose remains glued to Evenepoel's wheel and they're going to be caught by the chasers.
Evenepoel doesn't respond. Is the world champion in trouble?
2km to go
Evenepoel is slipping back towards that chase group.
Gall has a handful of seconds over Skjelmose. A bigger gap back to Evenepoel, who is now caught by the chasers.
Tejada has been dropped from that group.
In there are: Evenepoel, Ayuso, Kelderman, Uran, Uijtdebroeks, Bilbao
Skjelmose is working his way across to Gall. He has the faster finish, too. He might just be heading for yellow, too.
Evenepoel in trouble! He nearly gets gapped by the chase group and has to sprint to get back on.
1km to go
Evenepoel is dropping!!
Ayuso has attacked from that chase group and is blitzing his way across.
Skjelmose reaches Gall. He swings aside. No time for games, and the Dane attacks
500m to go and Skjelmose has a gap.
Gall comes back but it's going to be too late.
Skjelmose gets out of the saddle and crosses the line to win the stage and take yellow.
Ayuso third at 11 seconds.
Evenepoel sprints to lead home the mini chase group, having made a good fightback at the end there. Still, he concedes 21 seconds to Skjelmose and that the stage winner is the new overall leader.
Uijtdebroeks, Bilbao, Kelderman, Uran finish on the same time as Evenepoel.
Sheffield produces a late surge to take 9th place ahead of the next group, led in by Bardet.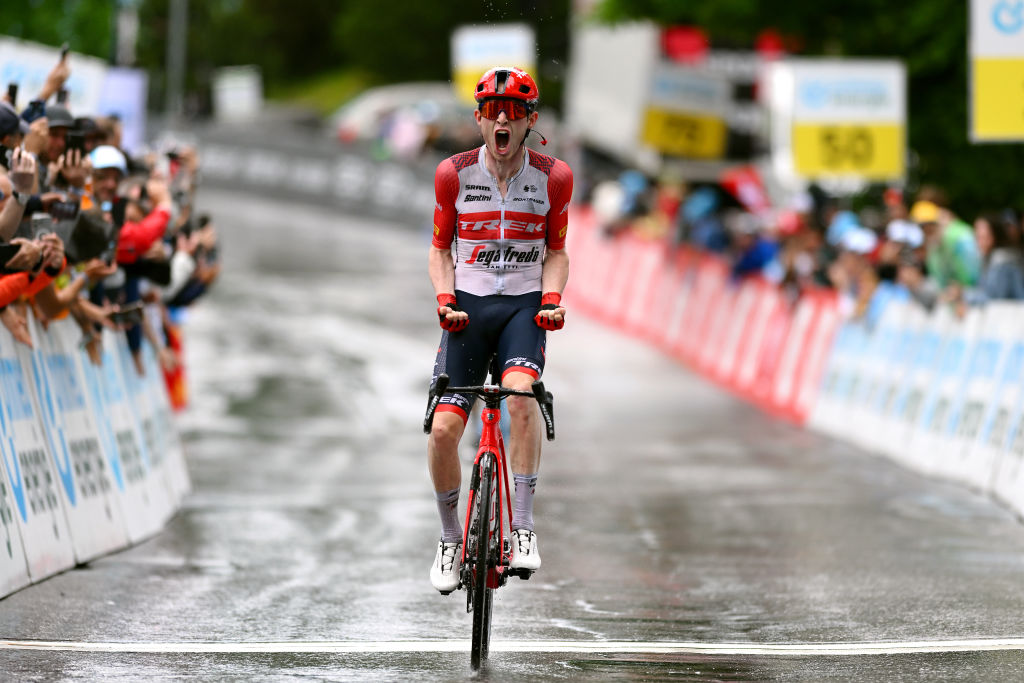 Stage 3 results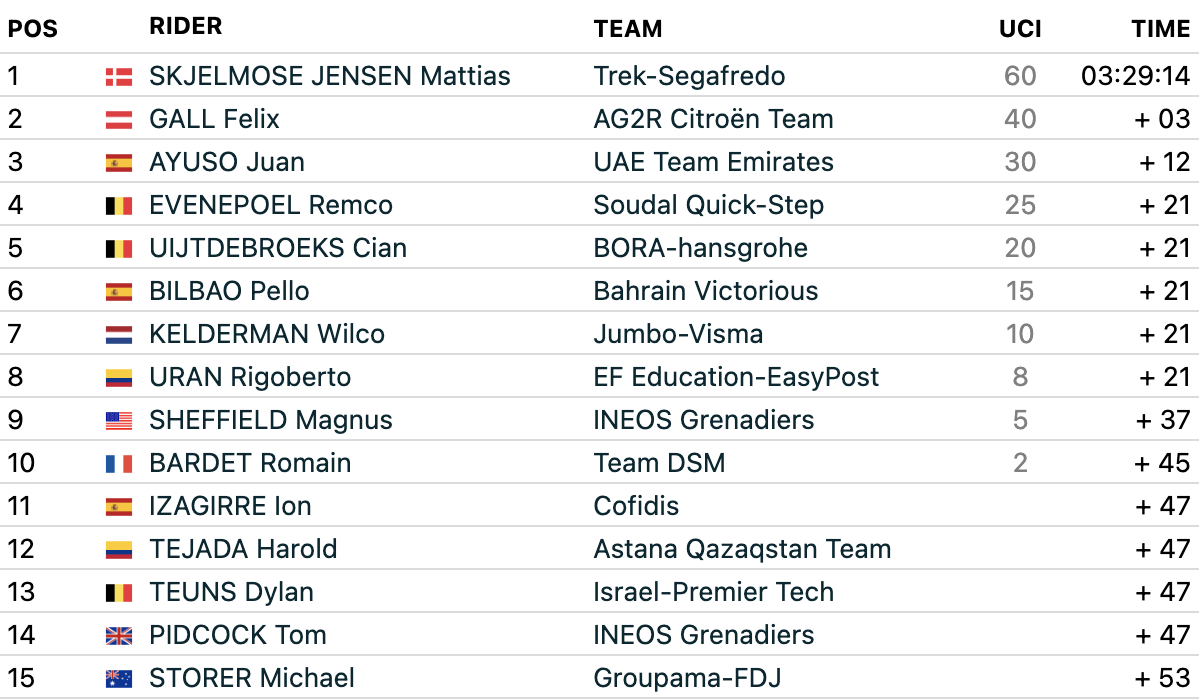 General Classification after stage 3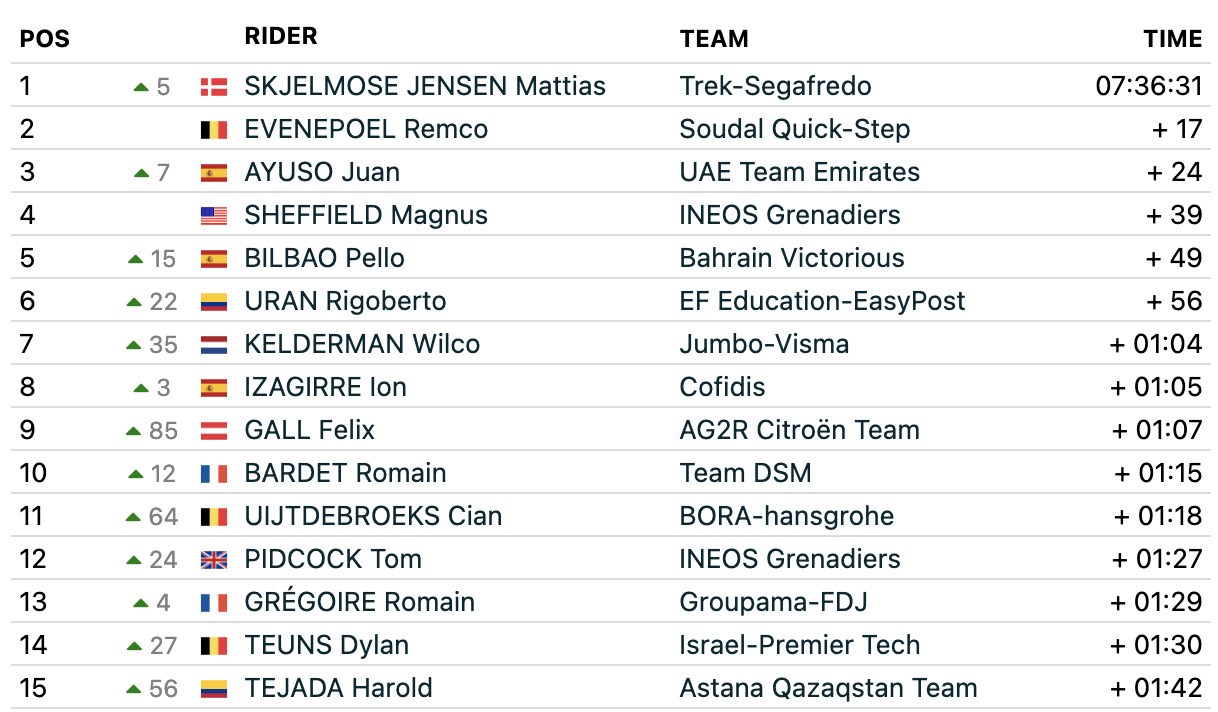 Let's hear from the winner
"I had a really big question mark about my climbing abilities. Ok, maybe this was not the hardest mountain stage but it was still a long climb and I did really good. We can put a little bit of a smaller question mark, I think.
"We hope so [defend the yellow jersey]. We're going to try out best. There are a lot of stong teams, it can be difficult but we will try our best."
Skjelmose is also asked about Evenepoel
"I wasn't sure. He was going really fast. I wasn't sure, to be honest. I was a little bit more worried about Felix because when he attacked he went really fast and I wasn't sure if Remco was playing games... but yeah, I always trust myself. I just gave it everything i could."
So where does this leave the Tour de Suisse?
Well, the headline news is that Evenepoel looks vulnerable. Even if he made a mistake and did too much too soon, it was still a shock to see him dropped, and it simply does not bode well for what's to come.
Skjelmose says he has answered his climbing doubters, but it has to be said, this stage was not hard until the last climb, making it more of a ramp test that perhaps suited his more punchy style. The meatier high-mountain affair in two days' time is a stiffer test of endurance but the Dane has been progressing really well in the past 18 months and will have the final-day TT in his locker if he does lose time.
Ayuso was not far off it today, and he missed the first few months of the season through injury, so is only getting better.
Those three - especially given their time trialling strengths - look like the podium finishers at this Tour de Suisse, but a lot can happen!
Get The Leadout Newsletter
The latest race content, interviews, features, reviews and expert buying guides, direct to your inbox!
Thank you for signing up to The Pick. You will receive a verification email shortly.
There was a problem. Please refresh the page and try again.