Parcours Classified Powershift disc rear wheel for tri and TT use officially launched
New wheel is claimed to combine the benefits of a single and a double chainring configuration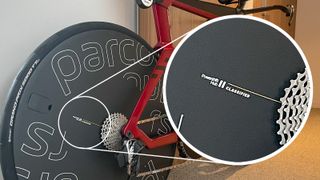 (Image credit: PTO)
British wheel brand Parcours and Belgian hub gear maker Classified have launched the first solid disc rear wheel to incorporate the Classified Powershift two speed hub. The Powershift system replaces a front derailleur and double chainset, offering aero advantages. It also allows riders to use a larger chainring and sprockets to increase drivetrain efficiency.
The new Parcours Classified Powershift disc wheel capitalises on the aerodynamic properties of the Parcours Disc2 wheel, which was launched in October 2022. At launch, Parcours claimed a 1,240g weight for that wheel, which is tubeless-ready, while it said that its 22.5mm internal rim width made it the widest disc wheel currently available.
It's part of the brand's #thinkwider wheel line-up, designed to be run with a 28mm tyre, although its tests have shown that there's no aero penalty from fitting a 30mm tyre. Parcours says that its testing has also shown that its disc wheel doesn't affect handling over a spoked wheel.
Parcours has also worked with Classified to incorporate the Classified hub into other rear wheel designs, including the Ronde, Strade and Alta spoked wheels, but this is the first disc wheel to be offered with a Classified hub.
Wide gear range with a single chainring
The Classified Powershift hub is an internal geared hub with just two speeds, with ratios that mimic a conventional double chainset. Shifting is wireless via the left shifter, which transmits a signal to the Classified hub, to initiate a switch between gears.
Unlike a front derailleur system, where the rider needs to ease off when initiating a shift, the Classified hub can be shifted under a load of up to 1000 watts, as the planetary gearing which it uses is always engaged. Classified says that a gear change takes just 150 milliseconds, which also makes for faster gear changes than a front derailleur.
Combined with Classified's 11- or 12-speed cassettes, its hub gear gives riders the gear spread and close ratios of a double chainset in a single chainring configuration.
Classified claims that its system is almost as light as a conventional double chainset, as it eliminates one chainring and the front derailleur. A single chainring is also likely to be more aerodynamic than a double chainset and front derailleur as it reduces frontal area and allows smoother airflow. We reckon that a swap to a single ring saves around 4 watts.
Classified says that without a front derailleur, riders can also run a larger chainring with the chain running over larger rear sprockets, which reduces the angle through which the chain links must articulate and lowers the force on the rear wheel and crank bearings, as well as allowing a straighter, more efficient chainline.
Aimed at triathletes and time trialists, the new wheel is likely to prove popular on rolling courses, where the extra gear range offered is a plus. We've already spotted the new disc wheel in action at the PTO European Open and World Long Distance Triathlon Championships in Ibiza in May, with Ruth Astle and Kyle Smith, who both used the new disc wheel on their way to setting respective bike legs that beat world-class fields.
The Classified-enabled Parcours Disc2 wheel is priced at £1,099 / $1,449 / €1,429, to which you'll need to add the Classified Powershift hub system, which retails for €1,299. There are further details on Parcours' site.

Thank you for reading 5 articles in the past 30 days*
Join now for unlimited access
Enjoy your first month for just £1 / $1 / €1
*Read any 5 articles for free in each 30-day period, this automatically resets
After your trial you will be billed £4.99 $7.99 €5.99 per month, cancel anytime. Or sign up for one year for just £49 $79 €59

Join now for unlimited access
Try your first month for just £1 / $1 / €1
Get The Leadout Newsletter
The latest race content, interviews, features, reviews and expert buying guides, direct to your inbox!
Paul has been on two wheels since he was in his teens and he's spent much of the time since writing about bikes and the associated tech. He's a road cyclist at heart but his adventurous curiosity means Paul has been riding gravel since well before it was cool, adapting his cyclo-cross bike to ride all-day off-road epics and putting road kit to the ultimate test along the way.