Chloe Hosking – Out of the WorldTour but far from finished with women's cycling
Australian discusses unexpected Euro-pro career end, gravel, US crit plans, comeback potential and making a difference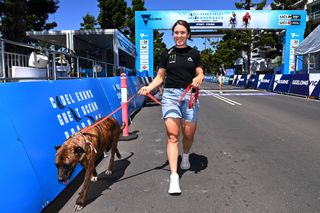 (Image credit: Getty Images Sport)
The last time we spoke to Chloe Hosking, sitting in a pavilion on the sidelines of the Bay Crits in early January, there was no question that the uncertainty was weighing. The 32-year-old certainly isn't a rider who is used to the straight and easy road, but it was one of the more vicious twists that left one of Australia's most successful riders facing an unexpected and unwanted early end to her career as a professional cyclist.
Though speaking to Hosking just months after the late collapse of the B&B Hotels team left her making that unexpected turn, the Canberra-based sprinter is embracing her new reality, having adapted to a new place in cycling with the characteristic speed she displayed on the bike.
Hosking had continuing training and racing through January and into early February, with the potential for a 2023 European season still in mind, taking on the Bay Crits and Melbourne to Warrnambool – where she came third with the support of the Roxsolt Liv SRAM team – as well as the Cadel Evans Great Ocean Road Race with UniSA-Australia.
"As things dragged on, I just decided that I wasn't willing to wait anymore," Hosking told Cyclingnews. "I needed to make some decisions and just take control of what I could control, which is how I've always really had the best results throughout my career really. I don't do well when things are spiralling out of my control."
"So really taking back ownership, I made the decision to stay in Australia, focussed on my uni and yes, focussed on the next stages and next steps."
Those next steps included not just finishing a law degree but also working part-time as a para-legal, throwing herself into the local cycling community and setting up a weekly junior bunch ride, starting up a bike brand with husband Jack – Hosking Bikes – and taking on a gravel race in Europe before heading to the United States to tackle a series of criteriums.
That meant when Hosking was asked what she enjoyed about her new Canberra-based life, she had plenty of answers, also adding being an active aunt, to many items from the list above. Still, for the Commonwealth Games gold medallist and winner of La Course, answering the question of what she missed from her life as a professional cyclist wasn't so easy.
"I don't know. I'm really happy. I do feel like I was getting to a point where I might've ended up being a bit resentful toward the sport, and maybe this all came at a really good time where I still had that enthusiasm and passion that I could dial into," said Hosking, who amassed around 40 wins in her professional career spanning 13 seasons.
"I do know that some people finish the sport and just don't want to have anything else to do with it. That would have been a real shame. And I feel genuinely fortunate that that wasn't me because I do think that there's still a lot that I can offer to try and improve the sport going forward for women, but also overall."

Hosking said that has been the driving force through her decision-making – right from her interest in sports law to contract decisions and starting Hosking Bikes – plus the youthful enthusiasm she is surrounded with on her regular junior bunch rides early in the morning every Monday has also fanned those flames.
"It's getting colder in Canberra; the kids are still there, and they are super enthusiastic, and so you can't help but feed off their enthusiasm," said Hosking. "And, I feel actually quite grateful to them because, you know, probably at the end of last year, I was a bit disillusioned with the sport, but seeing their enthusiasm and their passion has probably really reinvigorated mine."
Indeed Hosking has never been one to hold back when she sees something she feels is wrong, right from her frank 2012 assessment of then UCI President Pat McQuaid, calling him 'a d**k' when he said women's cycling was not developed enough for a minimum wage. It should be no surprise, given her long-running advocacy for a reasonable wage for women in the sport, that she wasn't going to take just any offer to stay in the game.
"I had a few contract offers. None of them were for a salary that I thought reflected what I was worth in the sport," said Hosking when discussing the decision-making process that saw her opting to settle in Australia for 2023. But that didn't mean completely turning her back on racing.
'I'm not ready to say 100% I'm done'
European road racing may not be on the calendar this year, but Hosking is far from done with pinning on a number. Apart from local races, she's just ventured over to Europe to take part in FNLD GRVL, a 177km race which was won by Tom Skujins (Trek Segafredo) and Tiffany Cromwell (Canyon-SRAM) – who, along with partner and F1 driver Valtteri Bottas and SBT GRVL founder Amy Charity brought the event to fruition.
Hosking was lining up at the event on her new gravel bike – which will sit in the Hosking Bike range alongside an aero road bike – but said calling it 'racing is a stretch' as her main aim was to go there in support of Cromwell, and while there may be more gravel in her future she is not expecting this to be her forte.
"I was never one of the big engines that could just go, go, go," said Hosking. "I needed to sit in, suck wheels and then sprint. I see what Justine [Barrow] is doing. I see what Tiff is doing, and I'm under no illusion that I could be as successful as them. But look, if I can enjoy it and have a good time, that's also great."
From Europe, Hosking is going to continue to chase more racing, but this time she is launching into a discipline that is right up her alley as she heads to the United States to take on a series of criteriums, starting with the Tour of America's Dairyland.
"I've always said that I wanted to go and race the crits in America, and so now I have that opportunity, and I'm doing it. And there's a real sense of freedom about being able to choose my program, being able to go to the races that I know I will enjoy and being able to do them without the pressure and also being able to ride my own bike, that's pretty cool," said Hosking, who is lining up as a team of one with Hosking Bikes listed as her team name
The rider, however, isn't afraid of tackling the racing without teammates.
"I look at some of my best results throughout my career, and it's when I capitalised on other teams," Hosking said." So I'm no stranger to racing and utilising the strength of other teams, and that's what I'm going to do in America.
"I don't want to sound cocky or anything, but I do think I'm a smart bike racer, and actually, to be honest, I need to be because I'm not that fit," she said, laughing. "So, hopefully, my smarts will get me to the end of the races."
Hosking – not surprisingly amid the studying, working and building a bike brand – says she is under no illusions that she is at the same fitness level as when she was racing in the WorldTour because 'I don't need to be,' but that doesn't mean she's necessarily left that stage of her career completely behind.
"I do know that if I sign a contract tomorrow for next year, I would be ready to race in Europe come the 1st of January and win. I know that I am still capable of winning races in Europe, given the right preparation. That's just not where I'm at right now."
However, clearly, Hosking hasn't completely closed the door on the possibility of returning to the Women's WorldTour, if the right offer came along, but she also has plenty of other wide open doors to walk through.
"I'm not ready to say 100%, 'I'm done'," said Hosking of her professional racing career. "I just know that, wherever I go, whether it's pursuing a professional contract in 2024 or whether it's continuing what I'm doing now, that I want to make sure that I'm putting myself in the best position to really have a positive impact on women's cycling and women's sport."

Thank you for reading 5 articles in the past 30 days*
Join now for unlimited access
Enjoy your first month for just £1 / $1 / €1
*Read any 5 articles for free in each 30-day period, this automatically resets
After your trial you will be billed £4.99 $7.99 €5.99 per month, cancel anytime. Or sign up for one year for just £49 $79 €59

Join now for unlimited access
Try your first month for just £1 / $1 / €1
Get The Leadout Newsletter
The latest race content, interviews, features, reviews and expert buying guides, direct to your inbox!
Simone is a degree-qualified journalist that has accumulated decades of wide-ranging experience while working across a variety of leading media organisations. She joined Cyclingnews as a Production Editor at the start of the 2021 season and has now moved into the role of Australia Editor. Previously she worked as a freelance writer, Australian Editor at Ella CyclingTips and as a correspondent for Reuters and Bloomberg. Cycling was initially purely a leisure pursuit for Simone, who started out as a business journalist, but in 2015 her career focus also shifted to the sport.