Stiffness and speed prioritised over comfort for this mid depth, very much race focused wheelset
Pros
+

Class leading aero package

+

Good value

+

Carbon spokes you can live with
Cons
-

Hub is crazy loud

-

Easy to ding

-

Perhaps a hair too stiff for general riding
You can trust Cyclingnews Our experts spend countless hours testing cycling tech and will always share honest, unbiased advice to help you choose. Find out more about how we test.
Cycling is a funny old sport really. It exists in this Goldilocks zone where the genuine top-end, race-ready gear is still relatively accessible when viewed in the context of other sports like sailing or motorsport. For under £2k, you can upgrade your bike with some of the best road bike wheels from the bleeding edge of the aerodynamic frontier, the equivalent, I presume, to slapping the front wing of Lewis Hamilton's Mercedes F1 car to your VW Golf (can you tell I'm not a motorsport fan?). The slightly wordy Hunt 48 Limitless UD Carbon Spoke Discs, hereby abbreviated to the Limitless 48 UD, occupy the top shelf of the brand's mid-depth wheels. At 48mm deep they're looking to satisfy a more all round role, with the deeper 60 Limitless UD catering more to the crit exclusive crowd.
I've had these on the go since the end of last year. They've come with me on my Canyon Ultimate, and when that went back to Koblenz they were swiftly swapped over to my new long-termer, a Fairlight Strael. I've blasted around on blue sky days and braved some ferocious Cornish crosswinds too, and I'm finally ready to pass judgement.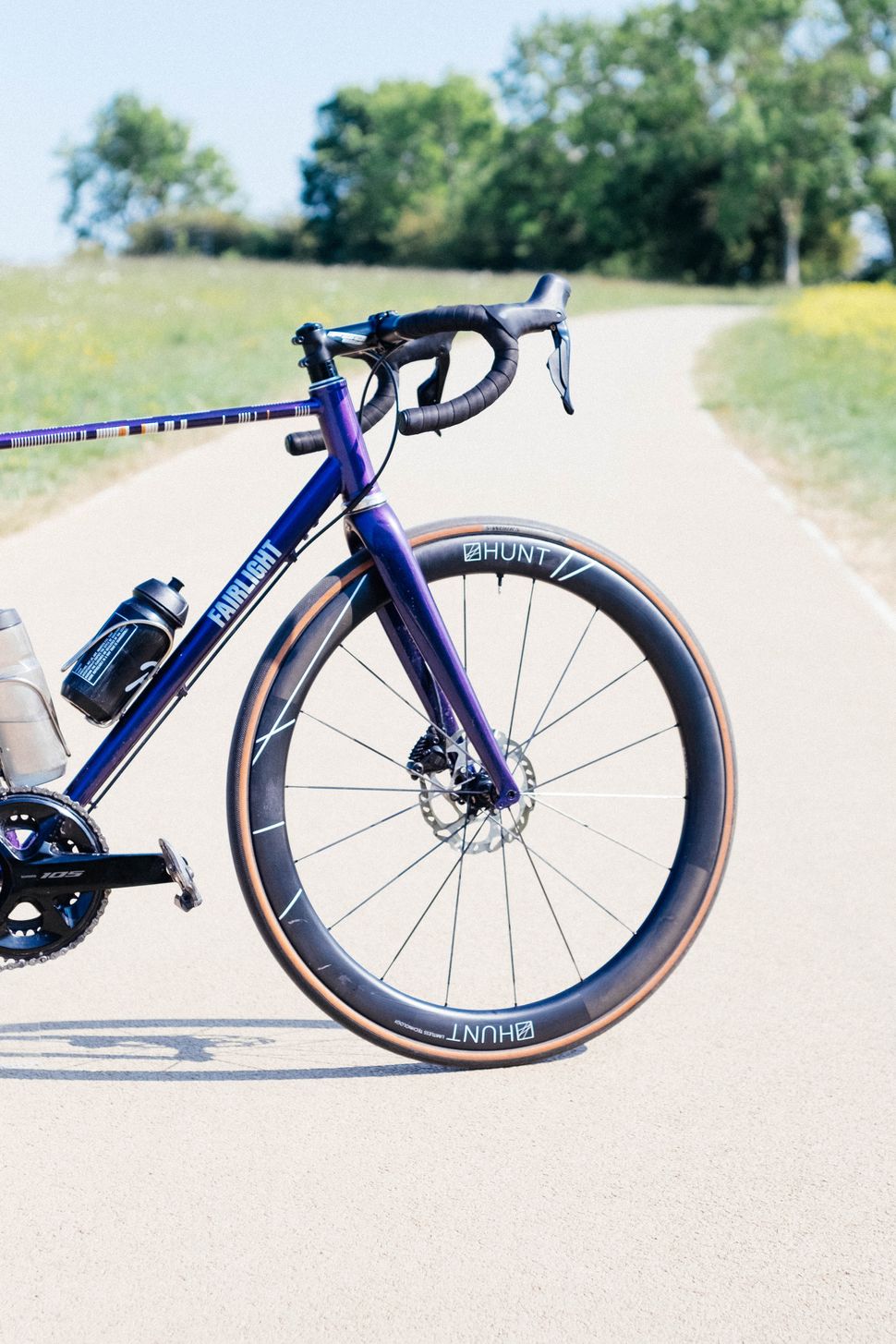 Design and aesthetics
I first set eyes on these over a beer at Eurobike last year. A ragtag bunch from Hunt, devoid of a stand, were roaming the frankly bewildering halls of the conference centre with some wheel bags. The thing that struck me about the 48 Limitless UDs then was the same thing that struck me when the box arrived at my home last year: "Bloody hell, these are wide!".
A 22.5mm internal width is wide, even by the increasingly expanding modern sensibilities. The most obvious feature isn't the internal width though, it's the external width. At 34.5mm wide these are noticeably wider than anything else I've seen, ridden, or anything else on the market I'd wager. The widest point isn't even at the tyre-rim interface, but 10mm or so lower down, meaning that with a 28c tyre, the whole system neatly expands out and then contracts to the apex, which is a thoroughly modern U-shape, though given the width it's a more pronounced, bulbous look than the competitors.
The width does mean that the rim is noticeably wider than the tyre. Looking down at your front wheel dead on while riding and seeing the rim is certainly novel, and while it claims aero advantages (which we will get to shortly) it has an unintended side effect. Leaning your bike up against a wall often means the rim, rather than the tyre, makes contact with something hard and abrasive. These are expensive wheels objectively, regardless of the competitor prices, and because of their shape, they will need you to remain more vigilant against knocks and scrapes. I am a clumsy man, and truth be told my privileged position means I am probably more careless with posh gear than I would be had I bought it with my own money, but regardless I did pick up more dings on these than I have with other rims. Another fun consideration is the rim, rather than tyre, clearance. On my Strael, with its heavily shaped chainstays, the rim is extremely close to the frame. On more flexible rims this would cause me concern, but as I'll get into it's not a worry here.
Image 1 of 3
Dings aside, I really love how these wheels look. I tend to steer clear of out-and-out aero bikes in favour of all-rounders, but fitting these to the spindly frames of both the Ultimate and the Strael brings a muscularity to the visual package that, while could be achieved by a rim of similar depth, isn't quite so effective with a rim of narrower stature. In short, they look cool. The branding is subtle enough to be classy, but not so subtle that the wheels become another doughnut of matte black anonymity. I think if you're spending this much on a pair of wheels you're probably within your rights to want people to know what they are.
These wheels exist in another, moderately less premium form too. The 'UD' in the lengthy nomenclature denotes that these wheels feature unidirectional carbon spokes. The other option is for steel spokes. Carbon spokes have a reputation for being hard to work with, but these ones have a traditional spoke head inserted over the tapered body of the spoke, meaning they can be trued as easily as any steel spoked wheel if they ever do go out of true; despite my best efforts with some gravelly excursions, I couldn't make them do so.
In terms of on-paper performance, Hunt claims these are the fastest sub-50mm wheel on the market. While manufacturer claims are hardly standardised, I've no reason to doubt the claims, and the fact that the 60mm deep rim came out second in our own wind tunnel testing certainly indicates that the shape is fast. The thing that interests me more than the shape is the spokes though; the UD version is apparently 30% stiffer than its steel sibling, with no aero penalty. Is this a good thing? Well, on paper yes, but in the real world as ever there is that pesky nuance to deal with.
Image 1 of 2
Performance
As we've seen in our wind tunnel testing, the difference between the most aero wheels is genuinely very small in wattage terms. The same presumably is true for mid-depth equivalents, though of course, we haven't tested this. On how these wheels feel I'm not going to dispute at all the claims of rapidity against the competition; these are fast, race-appropriate wheels purely in terms of aerodynamics. What I'd like to focus on instead is the handling, which is what you'll notice a lot more than 5 watts here or there.
These are an incredibly stiff wheelset. The wide set rim profile in combination with the carbon spokes means that there is that directness of feel that so many of us covet. Immediacy of power transfer, no palpable flex in a sprint (no, the rim didn't rub the frame), but also a corresponding decrease in comfort. Having tested these back to back against the new Hyperon Ultras, they are very different feeling wheels. The Ultras feel like a shallow section wheel, but are deeper, while the Limitless 48 UD's feel like a deeper wheel, but are shallower.
They feel slower to spin up than the Hyperons for example, but when on the move they have a much more planted feel. Less jittery, more self assured. In the corners, they don't have that agility that you'd expect from a shallow set, but what they offer instead is an assurance once you've picked your line that they're going to track perfectly. The muscularity of the visual package is genuinely mirrored in the ride, not in that they feel hefty or sluggish (far from it), but more in that they feel strong and unyielding even under heavy loads. The wide internal width certainly comes into play here, supporting the tyre sidewalls and plumping a modest 28c tyre out to a fulsome volume; more grip and therefore better handling isn't just down to the tyres, but the rim profile too.
They feel every bit the race wheel, and perhaps that is their main drawback too. As cyclists, we want race tech, but often we're not doing the riding suited to the very pointy end of race tech. I think the rim profile is genuinely a stellar all rounder, but I think the carbon spokes are likely a marginal gain too far for general riding. The increase in stiffness will aid you in the corners of a crit, but on a Sunday club ride you may feel more fatigued, but without back to back testing against the steel spoked version it's impossible to say; I'm just going on my assumptions here. They were certainly less comfortable than the DT Swiss set that came on my Ultimate, but with a proper setup with 28c tyres I could happily tick off 180km rides without any issues, even over the roughest Cornish tarmac. Could I be comfier? Yes, but then I'd be home later. They were more comfy than the Hyperons too, a wheel over twice the price.
Image 1 of 2
As a generalist they climb well, but as we know by now if you're going over 15 kmh then aerodynamics are the biggest factor and so an aero wheelset will climb faster. On super steep Cornish lanes I'd rather have something shallower, but averaged out over a whole ride I'd have these.
One thing that's also commendable is how they deal with wind. There's a descent back home that I use as a test bed often. It's enclosed entirely by solid Cornish hedges for its whole length, but at the base, when you're at terminal velocity, lies a farm gate through which strong crosswinds always emanate. For some wheels and whole bikes in the case of the Ribble Ultra SL, this is a section I dread. While these wheels didn't quite allow me to sail past unscathed, considering their depth they did extremely well. What is so often akin to a violent bodily shove towards the oncoming lane was in this case more of a playful tug. Something that can be braced against and managed without having to slow down.
One genuine bugbear I have with these wheels is the noise. I detest a noisy freehub, and I pour scorn over anyone who covets being followed by an angry buzz, but those people are out there… if it's you then you're going to love these hubs. They're monumentally noisy. They are so loud that I have scared wildlife, made dogs run away, and on one memorable occasion even caused a toddler to burst into tears. I guess it's an incentive to keep pedalling. As a PSA, hub noise is a surefire way to spook horses, so soft-pedalling past them is always best practice, whether you're armed with a sonic grenade for a hub or not.
Value
Generally speaking, Hunt wheels pack a punch for the price that is hard to poke any holes in. If you're looking for the absolute pack beating advantage then it is probably going to be hard to beat these as a general use race wheelset. They're fast, light, and cheaper than the competition as well as offering real world reparability with normal spoke truing.
If you're not a racer then that value proposition diminishes a smidge when compared to the steel spoked, cheaper alternative of the same wheel. If I had to pick one of these to use for just racing I'd have the UD option, but for general use AND racing the steel package offers better value; same aero gains, but a bit more comfy for a little weight penalty.
That being said, these are marketed as a race wheel and I'll score them as such; I think you'd be hard-pressed to find a set of wheels as good as this for cheaper, and if you use them for fast club runs too then you'll get more for your money. The real winner here is that these are absolutely fast enough for racing over more or less any parcours, but not so deep that you're going to want to save them for race days only. More uses = better value, that's just basic maths.
Image 1 of 2
Verdict
I very much enjoyed my time with these wheels. They were on the borderline of feeling overkill on a non-aero bike but just erred on the inside of that line, which means that they'd be right at home on a full aero setup too. What they lack in the responsivity of handling that superlight wheels offer they more than make up for in cornering capability, flat out speed, and I'd wager looks too.
The width takes some getting used to from a riding point of view, and you'll need to be careful not to ding 'em at the cafe, but if you want a really genuinely fast set of race wheels but don't want to go for something in the region of 60mm deep then these should definitely be on your shortlist, especially given the price. If you're only racing get the carbon spokes, but I'd suggest the rest of us would be perfectly fine using the steel version.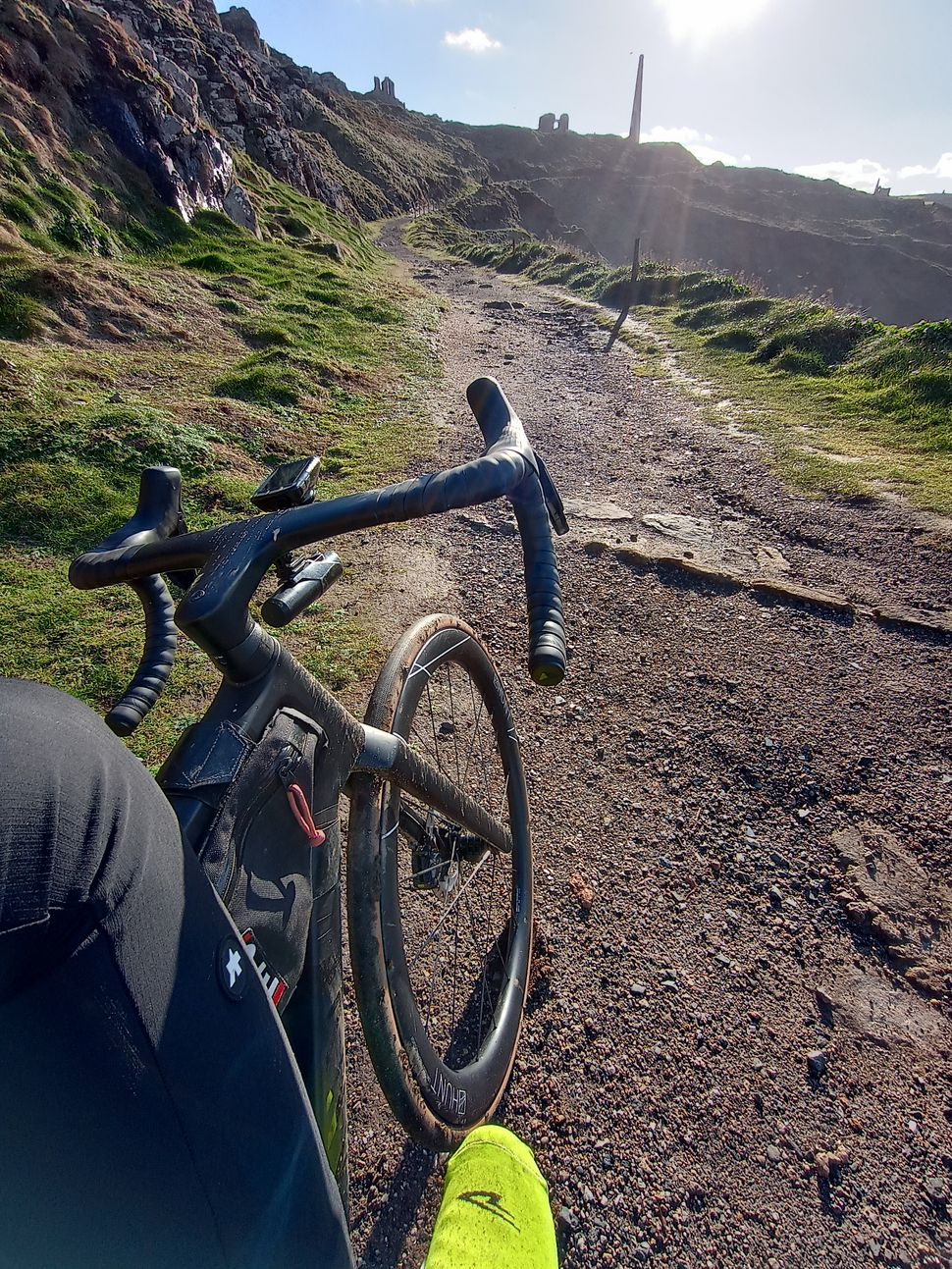 Swipe to scroll horizontally
Testing scorecard and notes

| | | |
| --- | --- | --- |
| Design and aesthetics | The width makes for a brash package, but I think they're a good looking set of wheels | 9/10 |
| Performance | As a set of race wheels at this depth means they're hard to beat. The only performance drawback is in the comfort stakes | 9/10 |
| Weight | At 1511g they're more than competitive at this depth | 9/10 |
| Hubs | They're not market leaders, but they're perfectly adequate. Engagement is sound, but my gosh are they loud! | 8/10 |
| Value | These are very race specific, and for the performance they offer they're a good value prospect. The steel spoked package is more so though, I'd wager | 8/10 |
| Overall | Row 5 - Cell 1 | 84% |

Thank you for reading 5 articles in the past 30 days*
Join now for unlimited access
Enjoy your first month for just £1 / $1 / €1
*Read any 5 articles for free in each 30-day period, this automatically resets
After your trial you will be billed £4.99 $7.99 €5.99 per month, cancel anytime. Or sign up for one year for just £49 $79 €59

Join now for unlimited access
Try your first month for just £1 / $1 / €1
Will joined the Cyclingnews team as a reviews writer in 2022, having previously written for Cyclist, BikeRadar and Advntr. There are very few types of cycling he's not dabbled in, and he has a particular affection for older bikes and long lasting components. Road riding was his first love, before graduating to racing CX in Yorkshire. He's been touring on a vintage tandem all the way through to fixed gear gravel riding and MTB too. When he's not out riding one of his many bikes he can usually be found in the garage making his own frames and components as a part time framebuilder, restoring old mountain bikes, or walking his collie in the Lake District.
Height: 182cm
Weight: 72Kg
Rides: Custom Zetland Audax, Bowman Palace:R, Peugeot Grand Tourisme Tandem, 1988 Specialized Rockhopper, Stooge Mk4, Falcon Explorer Tracklocross